Top 5 eCommerce Posts for May
Why Your Audience Is Your Company's Most Valuable Asset: Develop It – Marketing Land.
Many business owners tend to think of their website and their overall online presence as a sunk cost — something they need to do because their competition has a website, is active on social media or participates in other online marketing practices.
These 5 Posts Will Increase Your Facebook Engagement Overnight – Post Planner
A lot of businesses create Facebook pages and then assume their fans will engage with every post.  Bad assumption!
ShopSite Tip: Order Notification Blocking May Affect You! – Lexiconn
Email providers like GMail will see your hosting account as the origin for these Yahoo, AOL, GMail, and other customer email addresses and subsequently block the email from being delivered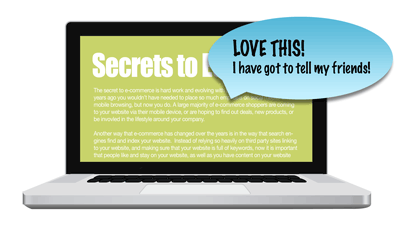 Search Engine Optimization (SEO) Basics – ShopSite, Inc.
Having a web site is of little use if your potential customers cannot find it…Perhaps one of the most important features for SEO is a static page.
ShopSite Tip – Quick Tips For Quantity Discounts – Lexiconn
Quantity Pricing is a simple but powerful feature in ShopSite Pro which allows you to provide discounts for large orders, and even discount pricing across multiple products in the same product group.