Top 5 eCommerce Posts for September
7 Quick Changes to Boost Ecommerce Conversions – Practical Ecommerce
Years of experience and data tell us, however, that there are some common themes when it comes to inspiring visitors to click that call to action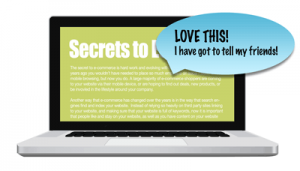 Why Blog? The Benefits of Blogging for Business and Marketing – HubSpot
If you're trying to explain one of the core tenets of inbound — business blogging — to your boss, a coworker, your mom at Thanksgiving, whomever, then send them this post.
The Importance Of Choosing The Right Web Host – Nextopia
Failure to consider the importance of your hosting provider can be a recipe for disaster, as your web host plays a pivotal role in your site's success.
7 Ways to Get Yelp Reviews (without Violating Its Policy) – Web Marketing Today
Yelp is possibly the most restrictive of all the business directories and review sites when it comes to asking for customer reviews
Softaculous app installer used by many hosts now supports the latest ShopSite release. – Softaculous Now supporting ShopSite v12 sp1.