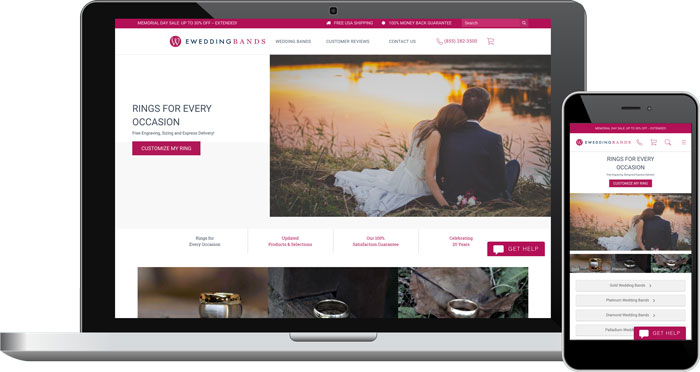 E-WeddingBands.com
A focused business plan and ShopSite's ease-of-use allow a brick-and-mortar merchant to move online and grow their business.
Company Background
Our site grew from a retail-based business that has a unique specialty in creating and selling wedding bands. We decided to go online in 1998 with a very narrowly-focused product line, unlike the millions of jewelry sites that have popped up offering everything under the sun. We believe that this narrow focus has made us industry experts on our products and lets us do what we do best, rather than constantly looking only for the next best selling piece of jewelry. We now receive as much business from word-of-mouth referrals as we do from advertisements.
In addition, most retail jewelry stores markup their products by at least 300%. Our approach is to take an extremely modest markup that allows us to grow our business, while providing extremely low prices to our customers. Retail jewelry stores hate us, online customers love us. In addition, we do not rely on distributors for our products. We manufacture ourselves, which means we can cut out the proverbial middle man. Instead of keeping our prices at the same level, we cut them to pass savings on. One of our biggest strengths is that we are completely honest and are not greedy.
Key ShopSite Features
Most people in the jewelry business are not technology gurus, and we needed a solution that was easy for anyone to use. We constantly make changes to our store and cannot afford to employ a technical specialist full time to make such small changes. ShopSite allows anyone that we choose to empower in our office to make changes.
Another major contribution that ShopSite makes is the fact that they and their partners are so responsive to our needs. We have submitted suggestions for improvements in the past and have been amazed at how quickly those changes have been implemented. And, they have been very good at selecting partners who know the system. I cannot imagine using an e-commerce engine without the support that ShopSite and its partners provide.
E-Commerce Tips
We realize that gimmicks can be a major part of an advertising campaign. In our business we have found gimmicks to be detrimental. We watched a competitor try to lure customers by giving a free wedding band away at the end of the summer. Our customers are usually on a deadline and need rings by a specific time and therefore just purchased what they needed. Our guess is that a casual cruiser signed up to win simply because it was free, and that it didn't help their sales much. We prefer to focus on offering unique products with outstanding prices. You'd be surprised how quickly word of mouth advertising moves. People say how glad they are that they found us, almost as if we were some big secret...
- Steve Blackwell
www.e-weddingbands.com